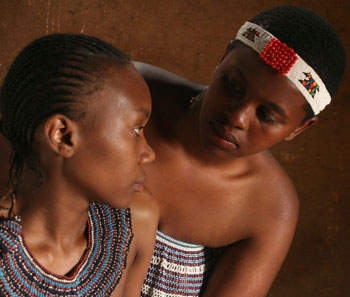 Inkanyezi Yobusuku/ Night Star
Fiction. Afrique du Sud. 2007. Couleur. 13′. VO : Anglais, ST : Français. Distr. : Out in Africa
La tradition veut que les jeunes filles Zoulous soient isolées pour un temps de repos et de contemplation lorsqu'elles ont leurs règles. Mais les rêves de Lindiwe sont perturbés par son désir pour sa guide spirituelle pendant cette période.
Traditionally, Zulu women were barred from household chores during menstruation, a time for rest and contemplation called Ukuya Enyangeni, going to the moon.
Skyeview: What's not mentioned in the description for Inkanyezi Yobusuku is the tender and sensual exchanges between the two Zulu women. Why omit this important and beautiful subtext, especially since the filmmaker is a LGBT activist?
*
In Search of The Wild Kingdom (Trailer – Quicktime)
Fiction. États-Unis. 2006. Couleur. 65′. VO : Anglais, ST : Français. Distr. : Blowfish Production. Film interdit aux moins de 16 ans / Film prohibited under 16.
Suivez la réalisatrice Georgia Mann et son équipe à travers les rue de San Francisco alors qu'elles capturent certaines des scènes les plus chaudes du milieu de la nuit. Un vrai faux documentaire avec du vrai sexe dedans… Ce film a reçu le prix 2007 du Feminist Porn Awards.
Follow documentary filmmaker Georgia Mann and her crew through the streets of San Francisco as they capture some of the most raw and compelling sex to date. One woman's quest to find, film and understand "real lesbian sex" leads her in the depths of queer sexuality.
*
The Apple
Expérimental. France. 2007. Couleur. 6′. Sans parole. Distr. : Emilie Jouvet. Film interdit aux moins de 16 ans / Film prohibited under 16.
L'histoire revisitée d'Eve croquant la pomme. Avec en fond une superbe musique de Mz Sunday Luv, Emilie Jouvet a réussi a créer un style qui mélange l'érotique, le burlesque et le fétichisme.
Eve wakes up in Paradise, finds an apple…and commits a delicious sin. On a gorgeous soundtrack, Emilie Jouvet has managed to create a style that mixes the genres of porn, burlesque and fetish.
Additional Links:
Cineffable Film List
Kekeletso Khena (Director of Night Star) Speaks Out
Holiday Inn Gare de l'Est
Skyeview: Cineaffable '07
Skyeview Gallery: Cineaffable '07
Skyeview: Paris Travelogue '07
This entry was posted on Wednesday, November 5th, 2008 at 8:37 pm and is filed under
Culture
,
Dispatches
,
En Français
. You can follow any responses to this entry through the
RSS 2.0
feed. Both comments and pings are currently closed.
One Response to "Skye's Festival Picks (Cineffable)"
Skyeview » Blog Archive » Dispatch 26 - Sunrise at Charles de Gaulle Aeroport Says :
December 1st, 2008 at 8:05 am

[…] only been a couple of weeks since my last trip to Paris.  How nice to return to my Mistress so […]